History of Topics 2011
28 October
The final game of The 18th Agon Kiriyama cup was held on 1st October in Kyoto. Iyama Yuta (Black) won by resignation against Yamashita Keigo who won the title last year. Iyama won the title 6 years ago when he was 16 years old, which is still the youngest record.
Iyama also gets The 20th Ryusei cup which was broadcast on Igo Shogi Channel on 30 September 2011. In the final, Iyama(Black) defeats Yuki Satoshi by resignation.
The 18th Agon-Kiriyama Cup Lightning Go Open Tournament
The 20th Ryusei Tournament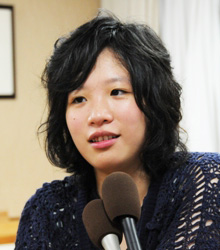 Hsieh Yi Min wins Women's Honinbo title in five years in a row, which means she gets Honorary Women's Honinbo that is the first-ever in Japanese Go history.
Hsieh Yi Min 5p and Mukai Chiaki 4p played for the fourth game of The 36th Women's Honinbo title match at The Nihon Ki-in in Tokyo on 24th September 2011.
Hsieh Yi Min (Black) defeats Mukai Chiaki by resignation and wins the title by 3-1.
Mukai made the continuous challenge to Hsieh Yi Min for the title but she could not get her first title.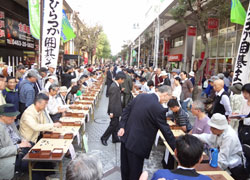 About 7,500 go fans gathered together for The 16th Hiratsuka Igo festival on 9th October. Hiratsuka was the place where the very famous `Kitani School' was held by Kitani Minoru 9P. More than 80 pros including Otake Hedeo, Takemiya Masaki and Rin Kaiho gave simultaneous games to 1,800 go fans on a shopping arcade. A European go fan from Belgium who took part in the event said `It's incredibly amazing!! I've never seen such a number of simultaneous games and pros!'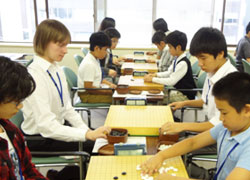 A Finnish Go player, Antti Tormanen (age 22), has just started insei in The Nihon Ki-in from October 2011. There are five classes in insei of The Nihon ki-in: class A to E.
He starts at class E which is the lowest grade as every new insei has to do.
He has played 43 games in total at class E and he won 40 wins, which is the top grade among E class students. Every month top four inseis get promotion to the upper class while bottom four players get demoted to the lower class. Accordingly, he will promote D class from November 2011.
Every Tuesday English Speaking Club of The Nihon Ki-in is held to train professional players who want to teach Go in English including Takemiya Masaki 9p. Antti is one of the teachers of the English Speaking Club. While he teaches those pros English, he gets their reviews and commentaries on his game in return.




Mr. Ukai, a chair of Kowakogyo Inc, has continuously donated The Nihon Ki-in for the promotion of go to the world for nearly a quarter century. The total amount of his donations shall be nearly 20,000,000 Japanese Yen. As an expression of our gratitude, the Nihon Ki-in decides to give him an honorary 7dan for above contributions.




Copyright©Nihonkiin all rights reserved