The 2nd GLOBIS Cup World Go U-20 was held from 8 to 10 May 2015 at the
GLOBIS University
in Tokyo.
Top 16 players with U-20 were selected to play for the Cup from Japan, China, Korea, Chinese Taipei, Europe, North America and Asia-Oceania.
All players were divided into four group, according to the results of their drawings. The double elimination method was adapted in the first game to the third game. (If a player wins two games, he advances to the quarterfinal at the knockout stage.)
At the final game, Huang Yunsong 4p from China won the 2nd GLOBIS Cup, defeating Na Hyun 6p from Korea by resignation. The third-place match was also held concurrently with the final and Li Qincheng 2p from China gets the third place.
No player from Japan advanced to the semi-final. The defending champion, Ichiriki Ryo 7p, could not advance to the quarterfinal while two Kansai Ki-in pros, Yo Seiki 7p and Sada Atsushi 2p, advanced to the quarterfinal. However, Yo Seiki was beaten by Lee Donghun 5p (Korea) and Sada was beaten by Li Qincheng at the quarterfinal.
The third edition of the GLOBIS Cup will be also held in 2016 in Japan.
The Nihon Ki-in will organise the Summer Go Camp 2015 for overseas go players from 21 Aug to 3 Sep 2015.
For details of the Summer Go Camp, please visit the official website of the Camp from
https://ssl.nihonkiin.or.jp/summer_go_camp2015/programs.html
During the Camp, as one of the programs, the league tournament will be held. The winner of the league tournament will play against a very special pro player of the Nihon Ki-in. (*In 2012 Takemiya Masaki 9p played against the winner of Summer Go Camp)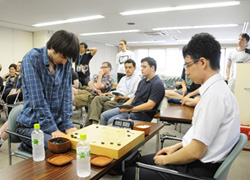 In 2014, Ichiriki Ryo 7p played against the winner of Summer Go Camp.
In addition, this year the prize of the league tournament should be very rare and valuable: Complete Game Collection of Honinbo Shusai (*21st and last hereditary head of the Honinbo house) which is out of print. The game collection includes Honinbo Shuei (Meijin), Karigane Junichi and Go Seigen.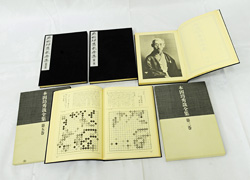 Furthermore, a special fan will be given to the top three players of the league tournament including Go Seigen's 100 year's birthday and Honorary professionals (Cho Chikun, Kobayashi Koichi, Otake Hideo, Rin Kaiho and Ishida Shuho)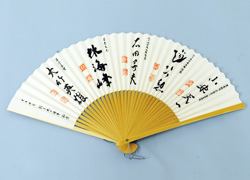 A special auction may be held in the Camp.
For registration, please visit our official website of the Summer Go Camp 2015:
https://ssl.nihonkiin.or.jp/summer_go_camp2015/registration.html