History of Topics 2000
Japan wins WAGC
O Meien takes lead in Honinbo title match,then Cho evens score
O Meien evens score in Honinbo title match
Meijin league
Kisei league
Yamashita headed for a league place?
Oza tournament
Promotions
Westerners at the Nihon Ki-in
Cho Hun-hyun wins TV Asia Cup
Fujitsu Quarterfinals
Yamashita Keigo becomes Gosei challenger
Cho wins first Kisei-league game
Takemiya scores first win in Meijin league
Bad week for Western players at the Nihon Ki-in
Does Black have an advantage?
30 June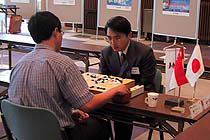 Japan wins WAGC
The 22nd JAL Cup World Amateur Go Championship was held in Sendai, Miyagai Prefecture, 300 km north of Tokyo, from 19 to 22 June. After two disappointing second places finishes, in 1997 and 1999, Sakai Hideyuki made no mistake this time. He beat his main rivals on the second and third days of the tournament and maintained a clean slate right to the end to score an unambiguous victory. The clash with his main rival, the 14-year-old Zhou Zhenyu of China, came unexpectedly early, in the 4th round.
Playing white, Sakai won this game by 3.5 points. On the morning of the third day, he then scored a comfortable win over Hong Ma-Eun Saem, the 18-year-old Korean representative, besting him by 9.5 points.
After the fifth round, only two players remained undefeated, the other one being another very promising youngster, Pak Ho-gil of DPR Korea. They were naturally paired in the sixth round. After winning this game, Sakai's last remaining obstacle was Chou Piang-chiang of Chinese Taipei. Aged 18, Chou is the younger brother of Taiwan's top professional, Chou Chun-hsun. However, he was unable to halt Sakai's triumphal progress.
Winning the WAGC was Sakai's greatest ambition, so he must be very satisfied with the result of his third attempt. As noted above, he played all the other top Asian countries and still scored a perfect record, so this was a very solid victory. Probably his next target will be to match Imamura Fumiaki's tally of three WAGC victories. Incidentally, from this year the WAGC winner receives an amateur 8-dan diploma as one of his prizes, but Sakai had just been promoted to 8-dan by the Nihon Ki-in anyway.

The prize-winners are listed below. In contrast to last year, when every prize winner was Asian, three local products from European countries made the top eight.

1st: Sakai Hideyuki 8-dan (Japan) 8-0
2nd: Pak Ho-gil 5-dan (DPR Korea) 7-1
3rd: Hong Mal-Eun Saem 6-dan (Korea) 7-1
4th: Zhou Zhenyu 7-dan (China) 6-2
5th: Ng Say Boon 5-dan (Singapore) 6-2
6th: Geert Groenen 6-dan (Netherlands) 6-2
7th: David Schoffel 6-dan (Germany) 6-2
8th: Ion Florescu 6-dan (Romania) 6-2

The Asada Shizuo Prize for Fighting Spirit was awarded to Le May Duy of Vietnam. This is only Vietnam's second year in the tournament, but Le played very well to score five wins and take 18th place. In particular, he scored a good win over Bo Keun Chi of Australia, a strong 6-dan who had earlier beaten Jong-Moon Lee of the USA.
O Meien takes lead in Honinbo title match, then Cho evens score
O Meien scored successive wins in the second and third games of the 55th Honinbo title match to take the lead for the first time, but the defending Honinbo, Cho Sonjin, recovered to even the score in the fourth game.
The third game was played in Chitose City in Hokkaido on 21 and 22 June. Playing white, O won by 4.5 points. The fourth game was played in Oita City on 28 and 29 June. Playing white, Cho forced O to resignaiton after 166 moves. The title match is now down to a best-of-three. The fifth game will be played in Yonezawa City in Yamagata Prefecture on 4 and 5 July.
14 June
O Meien evens score in Honinbo title match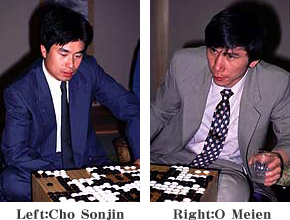 The second game of the 55th Honinbo title match was played at the Mt. Hiei Hotel to the northeast of Kyoto on 6 & 7 June. Taking black, the challenger, O Meien 9-dan, defeated Cho Sonjin by half a point and so evened the series. Although the final margin was just half a point, the game in general seemed to be a good one for O, so it looks as if his first-day loss in the first game hasn't hurt his confidence.
The third game will be played in Chitose City in Hokkaido on June 21 and 22.
Meijin league
An important game was played in the 25th Meijin league last week. Playing white, Yoda Norimoto 9-dan defeated Kobayashi Koichi Judan by 1.5 points. That meant that Yoda drew level with O Meien on 5-1, while Kobayashi more or less dropped out of running with 3-3. The Meijin challenger is most likely to be Yoda or O or Hane Naoki, who is on 4-1.
Kisei league
All the first-round games have been completed in one of the Kisei leagues. On 8 June, Awaji Shuzo 9-dan (W) defeated Ryu Shikun 7-dan by 1.5 points and Ishida Atsushi 8-dan (B) edged Imamura Toshiya 9-dan of the Kansai Ki-in by the same margin. At the end of the first round, Awaji and Ishida are even with Cho Chikun on one point.
The parallel league has yet to start.
Yamashita headed for a league place?
Although Yamashita Keigo is about to make his first title challenge, he has yet to play in a league, which is another cherished ambition. In the final preliminary section of the 56th Honinbo tournament, however, he met and overcame his toughest opponent in the first round, so he has a good chance of making it into the league. That opponent was O Rissei Kisei, whom Yamashita defeated by 4.5 points, playing white, on 8 June.
To secure a league place, Yamashita has to beat Cho U 6-dan in the next round, then Obuchi Morito 9-dan in the play-off.
Oza tournament
One game was played in the main section of the 47th Oza tournament last week. Playing white, Cho Chikun Meijin defeated Hikosaka Naoto 9-dan by half a point. Having lost two of his big-three titles, Cho is probably more interested than usual in picking up one of the lesser titles to compensate.
Promotions
The following players won promotions by winning games played on 7 June.
To 3-dan: Tsuruyama Atsushi
To 2-dan: Ko Iun
Westerners at the Nihon Ki-in
Only one of the Western members of the Nihon Ki-in had a game last week. Playing white in the second preliminary round of the Ryusei Tournamant, Michael Redmond lost by resignation to Ko Reibun 1-dan in a game played at the Nihon Ki-in on 5 June. Ko is the son of Nie Weiping 9-dan and Kong Shangming 8-dan. He is a naturalized Japanese and is a disciple of Kikuchi Yasuro. He became shodan in 1998.
08 June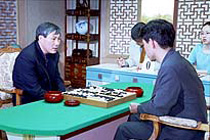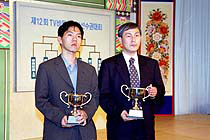 Cho Hun-hyun wins TV Asia Cup
The final of the 12th TV Asia Chyampionship, held on 31 May, was an all-Korean affair, pitting Cho Hun-hyun against his formidable disciple Lee Chang-ho. At one time, Cho did quite badly against Lee, losing all his titles to him in the early and mid-90s, but in the latter part of the 90s he made a recovery, regaining some of his titles and improving his personal record against Lee.
Before this final, the two had played 259 games, which is probably a record (we don't have up-to-date figures for Cho vs. Seo Bong-soo, but their total is probably less than 200), and of these Lee had won 156 games to Cho's 103. However, they haven't played each other much recently. Last year they met just three times and Cho was the victor twice. The reason why they are playing fewer games nowadays is that some other players have emerged who can win their way into the title matches.
This final was actually their first game this year. Lee seemed to have a reasonable game, but he made a strategic mistake in the late middle game and the wily Cho took the lead, eventually winning by 4.5 points (playing white).
This is Cho's first victory in the TV Asia Cup. He has also won the Fujitsu Cup, the Ing Cup, the Tong Yang Securities Cup, and the Chunlan Cup, so in international go his results are second only to Lee's (Lee has also won victories in five of the world championships, but his tally is 13 to Cho's 6).
Incidentally, this is only the fourth time a non-Japanese player has won this tournament -- the next-best for Japan is the Fujitsu Cup, in which it has won six out of 12.
Fujitsu Quarterfinals
The quarterfinals of the 13th Fujitsu Cup World Professional Go Championship were held in Kyongju, Korea, on 2 June. For Japan, the good news was that Kobayashi Satoru 9-dan reached the semifinals for the second year in a row. He did this by beating China's Liu Xiaoguang 9-dan by resignation (Kobayashi had black). However, the other Japanese representative, Cho U 6-dan, lost to Mok Jin-seuk 5-dan of Korea by 3.5 points (Mok had black). In the other two games, Cho Hun-hyun 9-dan of Korea (B) beat Zhou Heyang 8-dan of China by resignation (Zhou beat Lee Chang-ho in the second round) and Chang Hao 9-dan of China (B) beat Yoo Chang-hyuk 9-dan of Korea by half a point.
The pairings in the semifinals, scheduled to be played in Osaka on 1 July, are Kobayashi vs. Chang and Cho vs. Mok.
Yamashita Keigo becomes Gosei challenger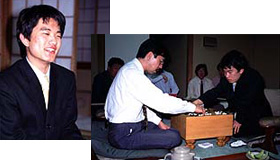 It has been third time lucky for Yamashita Keigo 6-dan. After two losses in play-offs (last year's Tengen and this year's Judan), he has become the challenger for the 25th Gosei title. His opponent in the play-off, held on 1 June, was Kataoka Satoshi 9-dan. Playing black, Yamashita won by resignation. He will now challenge Kobayashi Koichi for the title.
Cho wins first Kisei-league game
Under the new system, the final stage of the Kisei tournament is made up of two six-player leagues, the winners of which will meet in a play-off to decide the challenger. The first league game was played on 1 June, and Cho Chikun, the previous Kisei, defeated Yo Kagen 9-dan by resignation (Cho had black).
Takemiya scores first win in Meijin league
Takemiya has been having a horrible time in the 25th Meijin league, but after six successive losses he finally picked up his first win, defeating Imamura Yoshiaki 8-dan (W) by 2.5 points. Imamura has made an unhappy debut in the league and his score is now 0-6.
In another league game played on 1 June, Kato Masao (B) defeated O Rissei by half a point to even his score at 3-3. O Rissei has the same score.
Bad week for Western players at the Nihon Ki-in
Western players at the Nihon Ki-in all did badly last week. Perhaps the most painful loss was that suffered by Michael Redmond 8-dan, who fell short by two points in a game with Okada Shinichiro 7-dan (B) in the Oteai. This will slow Michael down a little in his quest for promotion to 9-dan (he reached 8-dan in 1996).
In other Oteai games, Catalin Taranu 4-dan (W) lost by four points to Kirimoto Kazuo 3-dan and Hans Pietsch 3-dan (B) lost by resignation to Kanazawa Hideo 6-dan.
Does Black have an advantage?
Recently Korea has been switching over to a komi of 6.5 points on the grounds that 5.5 favours Black. If you look at the games whose results we've reported this week, you'll see that Black has won ten out of 12. Of course, this is only a very small selection, but, for example, Black won all games in the Fujitsu Cup quarterfinals, and in title matches one gets the impression Black does better.
Last week 80 games were played at the Nihon Ki-in, of which Black won 46 or 57.57%. Naturally 80 games is such a small selection that statistically it's meaningless. We therefore decided to check out the Igo Data Enjoy Book and the Igo Data Enjoy Magazine '96, two publications that were spin-offs of the project to make a data base for professional go that included all known game results from 1960 to 1995 (the 'magazine' looked like the first of what promised to be an annual series, but unfortunately it was a one-off).
The size of the Nihon Ki-in data base guarantees statistically more reliable data, as follows. In 102,158 professional games played between 1960 and 1995, Black won 54.8%. 71,282 of these games were komi games, of which Black won 53.4%.
One interesting fact that emerged from the data is that Black's winning percentage is lower in games for which game records were made (less than 40% of the total). In 1995, for example, Black won 52.4% of the 3,941 games played, but only 50.3% of the 779 games with game records. The more important games are more likely to be recorded, of course, but it's not clear what this difference indicates.
Despite the existence of these statistics (no updates have been published), there is no interest at the Nihon Ki-in in changing the komi to 6.5. It would be interesting to see the statistics on which the Korean decision was presumably based.




Copyright©Nihonkiin all rights reserved